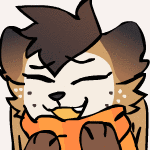 Hi y'all, I'm Soren - I'm a 25-year-old furry artist who uses they/them pronouns.
I'm one of the mods here, I help out with Strudel Masterlist stuff!

Some of my biggest interests are The Adventure Zone, animal fantasy books (Warrior Cats, Wings of Fire, etc), and Pokemon!

I love nature and witchy aesthetics ─ my favorite color is mustard yellow, and I really love sunflowers!